Duke students' contact-lens innovation
Matt Pleatman, a student in Duke University's Pratt School of Engineering, and his partners took home a $50,000 first-place prize to develop an ultra-thin case for contact lenses.
The students, which competed under the team name "Refresh Innovations," pitched the idea at Duke's annual Start-Up Challenge, which allows students to present their ideas to potential investors. Their idea apparently hit a note with judges, and they were awarded the $50,000 to further develop their product.
They call their idea the Contact Lens Refresh Card, an ultra-slim, all-in-one contact lens case and multipurpose solution carrier that fits into a wallet in the same way as a credit card.
"[The prize money] is a game-changer," Pleatman says. "This capital infusion can really help take us to the next level."
The Duke Start-Up Challenge, started in 1999, runs throughout the academic year and is open to students across the university.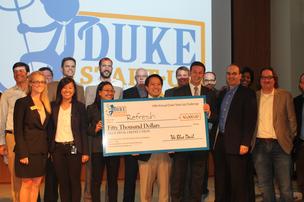 Enlarge
A team of Duke engineering students will use $50,000 to further development of its ultra-thin case for contact lenses.